The positive effects on your business are numerous, for every stakeholder value is added.
Your whole organization benefits from our Control Tower and Solutions. It is not limited to just Operations or Transport. Everyone who has touches with transport benefits significantly as we manage transport and provide visibility end-2-end.
Transport is something which is exists throughout your whole organization and affects many stakeholders. It goes beyond printing a label and shipping the shipment. Transport Management (Systems) are not limited to Operations or Distributions.
Eyes On Transport has an End-2-End approach and addresses all stakeholder needs and supports all levels/departments within your organization in being successful. Your ROI therefore is not only related to Operations / Distribution / Transport, all stakeholders benefit from a proper set up and visibility.
Creating your Control Tower and benefits
Connecting your systems to our TMS, you are able to access the gateway via 1 set of interfaces. Extending your carrier landscape does not drive additional efforts on your side. As the carriers are set up in our TMS, you can access them by using the same set of interfaces, you just change a parameter on your side and you will get a different label. Same applies to transport related processes. Via parameters in the interfaces you can address functionality to support your processes.
By moving transport knowledge into an expert system (TMS) and therefore reducing complexity in your WMS environment, you reduce development efforts and costs significantly on your side. Same for lead time to availability of a new carrier / functionality, significant reductions are made.
Other than reducing efforts on transports, you will free up capacity to focus on your WH related processes.
Adding a new site, a new WMS is not a problem. Just use same interfaces and you can access same functionality. This leads to significant savings / cost avoidance and almost instant availability.
In this way we realize for you 1 Control Tower, 1 Visibility,        1 Process across all your shipments.
PRE-TRANSPORT (ONLINE)
Pay after delivery

COD
Buy on Account
After Pay

Transport Choice

Speed / time (now)
Location
Reliability
Costs

Availability Goods
Change options before ship
TRANSPORT
Instant information

Visibility
Pro active info

Change option during
POST-TRANSPORT
Return service
Claims (damage/loss/fraud)
CUSTOMER SERVICE
Membership
Ease of use
Coulance / goodwill
Speed / Responsive
"No risk" / "@home"
SALES
Grow business/revenue

Online portal
Client intimacy
Stores

No excuses limiting sales

Capabilities
Goods availability
Performance
Less returns

Reporting
Innovation / Strategy
CUSTOMER SERVICE
Real issues
Quality of information
Visibility
Decisions
Clear processes
Low claims ratios
OPERATIONS / TRANSPORT MANAGEMENT
OPERATION
Smooth operation
Label any time any place

Upfront packing
During packing
After packing

Sorting process supported
Clear agreements (SOW)
STORES
Integrated in POS-system
Ease of use
TRANSPORT MNGT
Supported load process
Performance Carrier
Quality
Customer service
Visibility
Reporting
Network
Resilience/ alternatives
MNGT OF 3RD PARTIES
IT
Ease of integration
Reliability
365 / 24 / 7
Reduction complexity
Data quality feeds
FINANCE
Low costs / high margin
Low cost alternatives
Defer costs by options
100% invoice check
Excess costs reduced (nil)
Low claims
Reporting / visibility / trend
Reduction rates
COMPLIANCE
Confirmation of arrival EU
Dangerous Goods
GDP (Healthcare)
Skip learning curve and benefit instantly
Our Control Tower contains years of experience running and managing Transport Departments and their TMS set ups in an international environment, multi site, -client, -carrier, -industry, solution delivering high performance, visibility, quality and cost effective / profitable solutions.
Environments supported can be best described with high complexity, high volume, high value, high customer service, high visibility, a mix of different transport processes, omni-channel.
On top of that we have gained experienced in other positions/departments like Operations, Customer Service, Repair, Order Management, etc. Because of that (integrated knowledge) we are able to connect the dots and deliver value to each stakeholder.
By using our Control Tower and Solutions you do not have to reinvent the wheel and you instantly benefit by skipping years of learning curves. Our Control Tower will fit your business and requirements as we will tailor it to your needs within our standard.
Implementing a TMS from scratch within your organization can take years before it is up and running according to requirements. Connecting with carriers (label/manifest/status data) might go relative fast, yet this is only a point of start. To improve quality, hence create visibility, to be able to manage processes and be in control, takes way longer and is more complicated.
You save at least 5 years and enter next level Transport Management almost instantly.
We make sure that you will run an end-2-end integrated and tested solution (not to be mistaken with carrier-integration which is just connecting). We integrate and manage partners/stakeholders/data by continuously monitoring whole set up and collaboration. Only the best is good enough.
This is where Eyes On Transport makes the difference, adding & delivering value for you.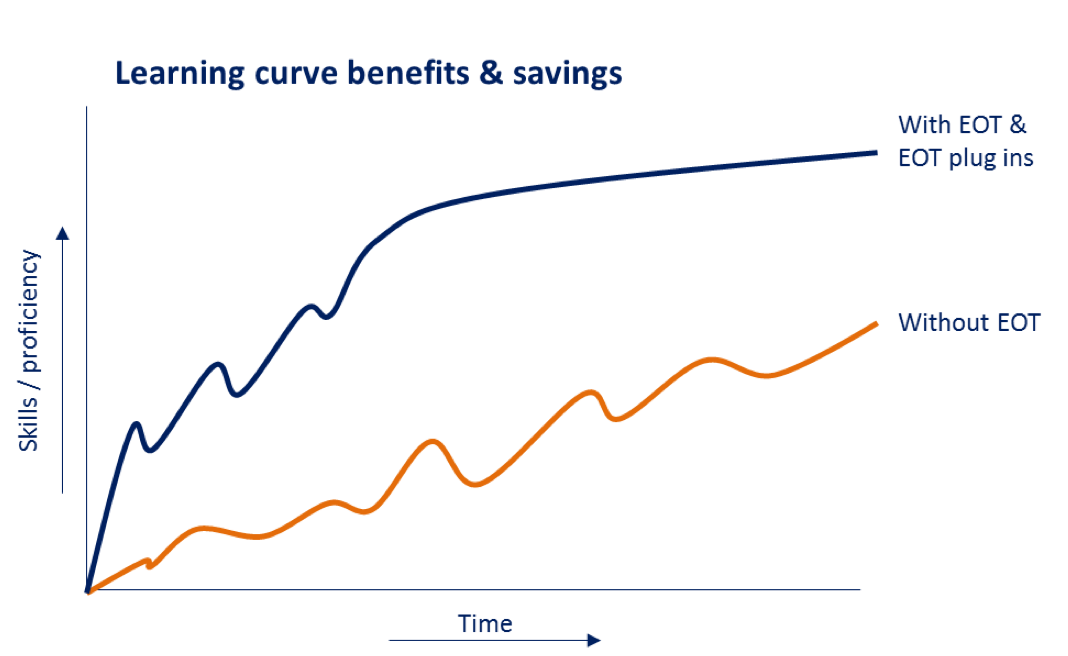 Installing Eyes On Transport Control Tower within your organization delivers a lot of added value and ROI, direct and indirect.
The ROI  depends very much on your actual as well as future state and is difficult to put a calculated number on. There are many items which need to be taken into account and a lot depends on decisions (to be) taken by you. Besides savings on freight contracts, there is a lot more value add, often difficult to value. There are savings made, cost avoided and value created throughout your whole organization for all internal stakeholders. Yet there also a lot value added for external stakeholders driving same deliverables.
By using our Control Tower the "game" changes, you get in control, eliminate dependencies and  take decisions to change situations.
While using the Control Tower, some benefits:
Our omni channel gateway takes out complexity in your exiting ERP/WMS/TMS/Online environments, which allows you to benefit from our expert set up and at the same time allow your IT to focus on your core business. Your overall IT costs reduce;
365/24/7 support towards your organization and access to information;
The increased visibility for all stakeholders delivers on demand reliable information, no rework required and reduces questions;
Your processes are improved which results in better process control, less deviations and less complaints;
Increased customer satisfaction delivers valuable value add;
Address topics to act on throughout your organization preventing and driving out costs;
Add value for your organization as well as your customers;
The Control Tower and its results support Sales & Marketing in strengthening your Brand;
Reduce costs, increase service and performance based on your Private Distribution Network
Check out Stakeholder value for your value add.
If you would like to get more details on ROI for you, we are happy to review your situation, options and benefits.